What do I do with my wedding bouquet when I'm not holding it?
You will no doubt have spent a great deal of time choosing the flowers for your wedding bouquet and your bridesmaids' bouquets, not to mention money. The bouquets will have been beautifully handtied by your florist usually made with the highest quality flowers. It is a real shame when we see brides put their bouquets down after the ceremony and not look at them again because they don't know what to do with them when they are not holding them.
Use the bride and bridesmaids bouquets as extra floral decorations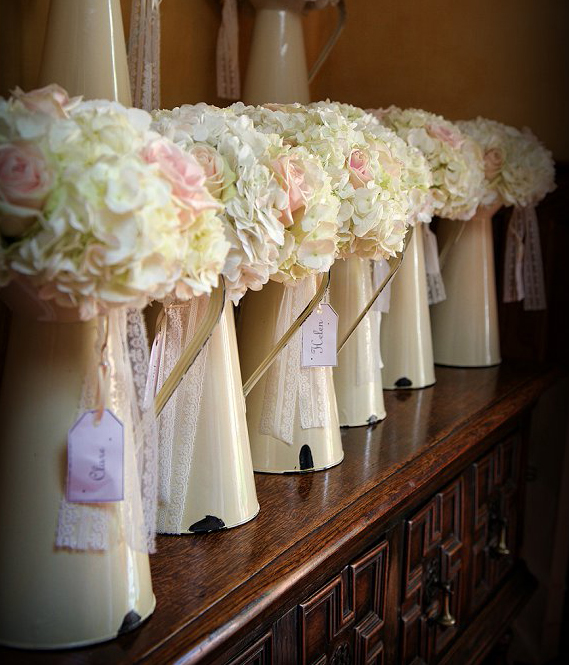 White hydrangea and blush pink rose bouquets for 8 bridesmaids make lovely additional floral decorations when resting in country jugs. Florals by Passion for Flowers, photography by Sally Wood.
Why not think of your bouquets as extra floral decorations? When you are not holding your bouquet have a vase or container filled with water ready for it to sit in. These can be positioned around the venue, say on your cake table, guest book table or depending on how many bridesmaids you have they can run along the front of your top table making up your top table flowers. Re-using the bouquets helps your budget go a lot further, especially if you are having lots of bridesmaids. For a country style wedding we suggest using cream jugs for your bouquet containers, or for a timeless elegant wedding, footed mercury silver vases make lovely containers for the bouquets.
For a rustic or woodland wedding we love the idea of laying your bouquets or standing them on our tree slices. You could buy a wood engraving pen and engrave the bridesmaids names on these as a lovely keepsake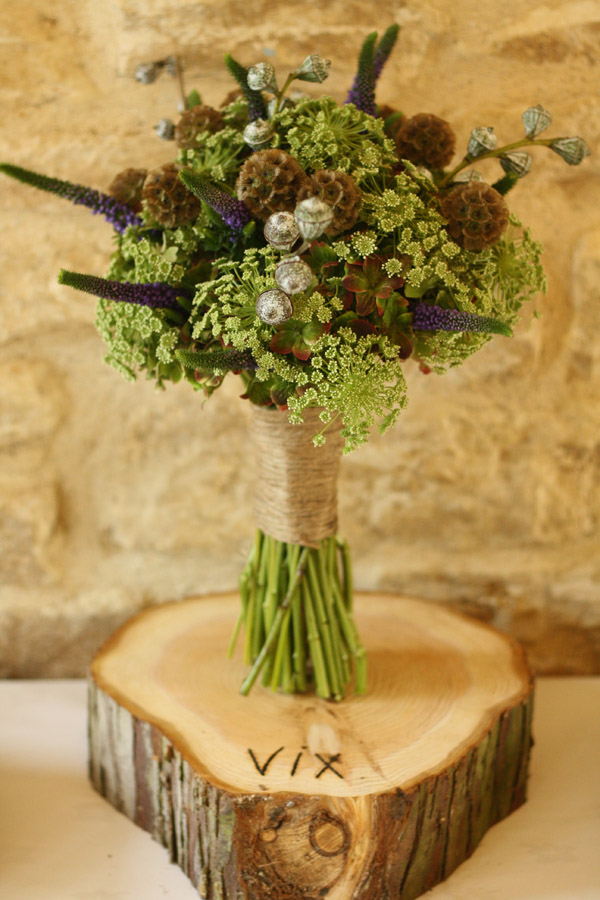 Additional gifts for your bridesmaids
Let your bridesmaids take the bouquets home in the vases or vessels you have displayed them in, these will make a lovely gift which they can re fill with flowers over and over again. To help the bouquets last longer, re-cut the stems after they have been out of water for any length of time.