White And Gold Hanging Vases For Weddings
This week our wedding decorations of the week are our white and gold hanging vases for weddings. These hanging vases can look so lovely hanging in groupings at your wedding venue. If you have beams or poles in place at your venue or in your marquee these will be easy to hang. Alternatively hang these vases outside, from archways and pergolas in the garden or from branches of trees.
For more hanging vase inspiration why not read our post 'Beautiful Hanging Vases For Summer Weddings'.
The vases could be used for flowers or tea lights. If you don't want to hang the vases they also look great sat on tables. Whether you use them as part of your wedding centrepiece with the large matching white and gold vases or they could be used as accent decorations on your guest table, gift table or in the bar.
 White And Gold Hanging Vases For Weddings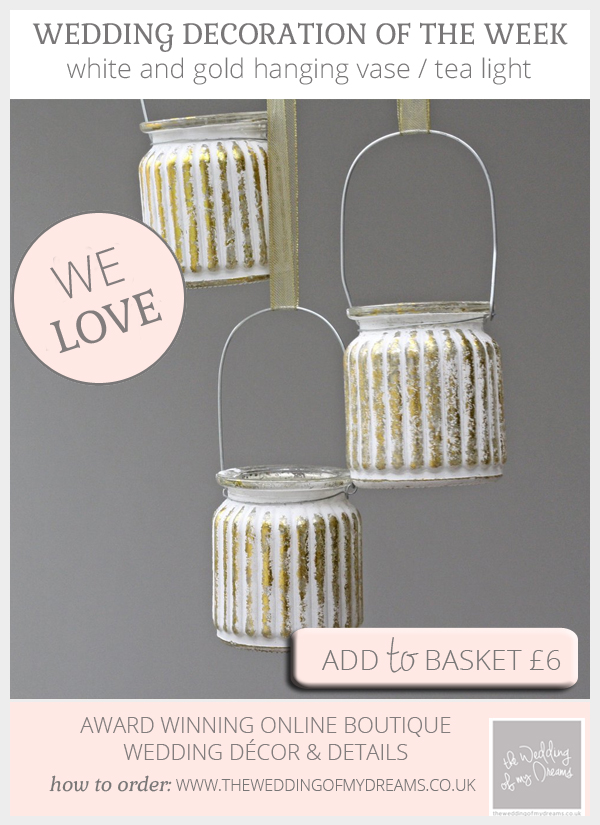 View our white and gold hanging vases for weddings for sale in our shop
Product Details
These white and gold striped vases or tea light holders will look so elegant at your wedding.
They can suit an elegant winter or autumn wedding if you are including warm rich colours but can look equally fitting at a spring and summer wedding.
The votives have a metal handle so could be hung around your venue.
This white and gold tea light holder measures 9cm high and 8cm diameter. Made from glass.
Please note: do not wash with detergent or use flower food as it may erode the colouring.
Price: £6 each
You Might Also Like