Beautiful Hanging Vases For Summer Weddings
Summer is well and truly here which means wedding season is in full swing. So we're looking at some of our favourite Summer wedding decorations today – hanging vases. Whether they're brimming with beautiful blooms or kept chic with a single rose, they're a gorgeous decoration for an outdoor wedding.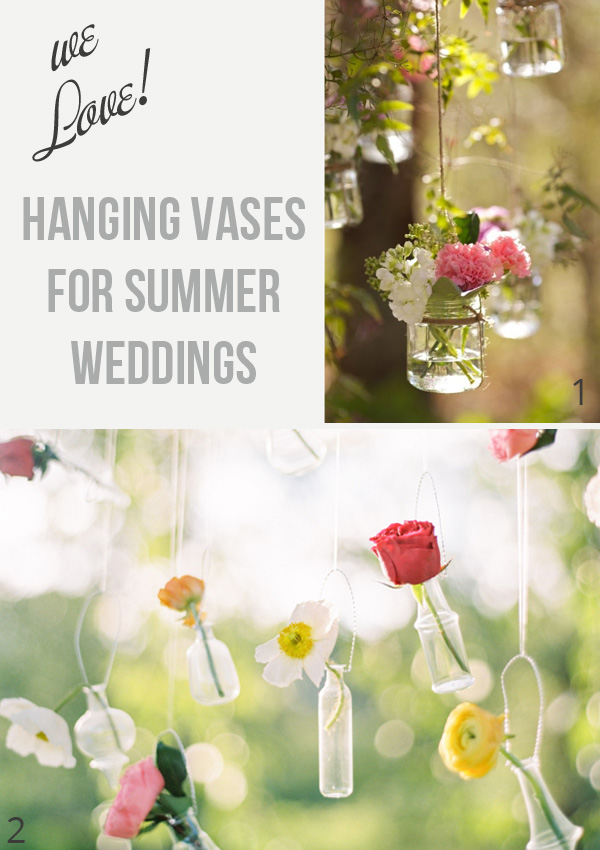 Image Source – Photographer 1 – Photographer 2
Ideas For Hanging Vases
Hanging vases full of floral delights bring in a lot of colour and personality to your wedding venue. If your wedding is based outdoors, there are tons of different ways you can incorporate this idea into your décor.
Even if your ceremony and reception is based indoors, it's likely that guests will wander out into the sunshine in the evening. Dress up the outside by hanging a handful of vases from the branches of trees. It's important to make sure the outside of your venue looks beautiful, even if the majority is based inside.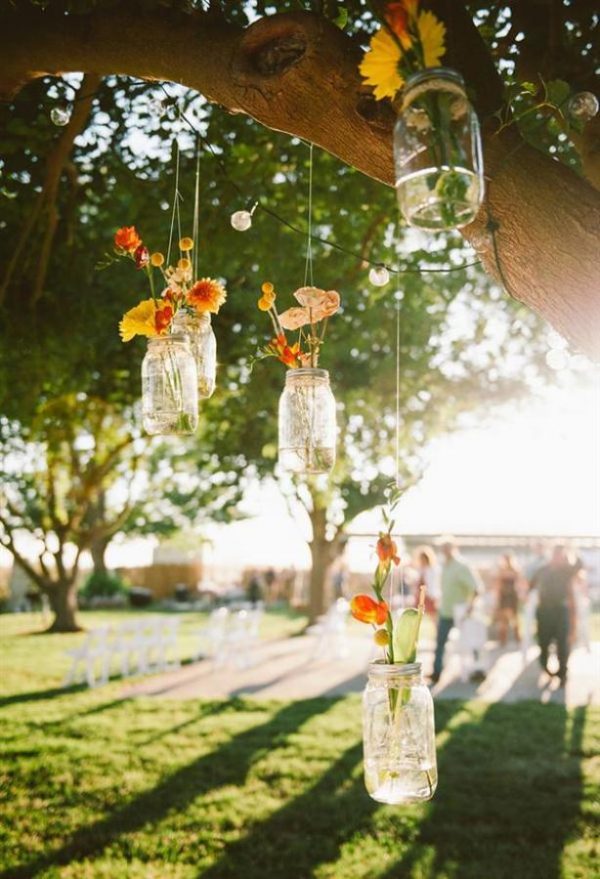 If you're lucky enough to be having your wedding breakfast outside, use hanging vases as an elevated table centrepiece. Base your tables under trees if possible and attach the vases full of flowers to the trees. This is such a unique, unusual idea that your guests won't have seen before and it's a great way to get everyone talking. Plus, if the tables are under the trees your guests will be able to stay cool in the shade during the scorching heat of the day.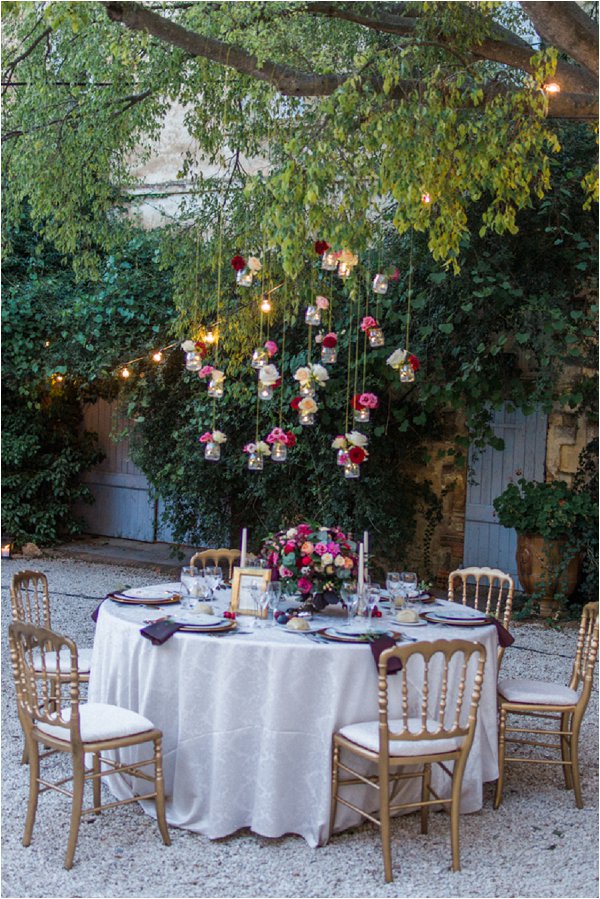 Another way of using hanging vases at your Summer wedding day is by using them as a backdrop. They're an incredible backdrop for your wedding photographs. Why not hang them behind your wedding cake or dessert table? Match the colours of your chosen flowers to your wedding cake and tasty treats for a look that is completely coordinated.
Mix and match with hanging vases containing tea lights too. The variety of flowers and candles will look beautiful and glowing in the evening. If you wanted a style that looks natural and a little mismatched, shake things up by using a mixture of jam jars, mason jars and vases. You can turn jam jars, bottles and vases into hanging vases yourself by tying twine or wire around the lip at the top of the jam jar and creating a loop to hang from – see our blog post .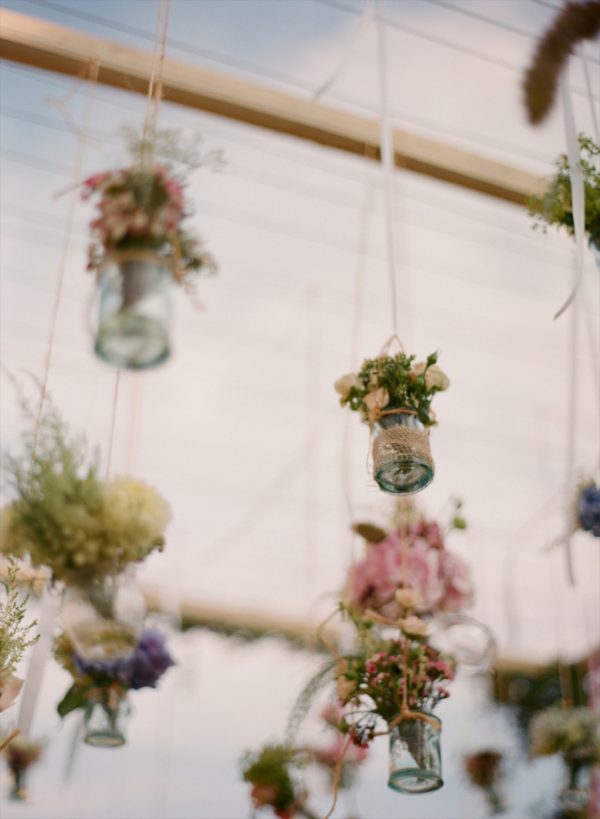 You can get really creative when it comes to dressing your vases. Lace ribbon looks beautiful wrapped around a vase and is perfect if you want an elegant wedding style. Hessian ribbon or natural twine is a great choice if you're having a rustic or woodland wedding, and will fit in beautifully with your surroundings. Inject a splash of colour by using colourful ribbon to hang the vases from the trees with. It's so easy to blend the vases into your colour scheme with the colour of the ribbon.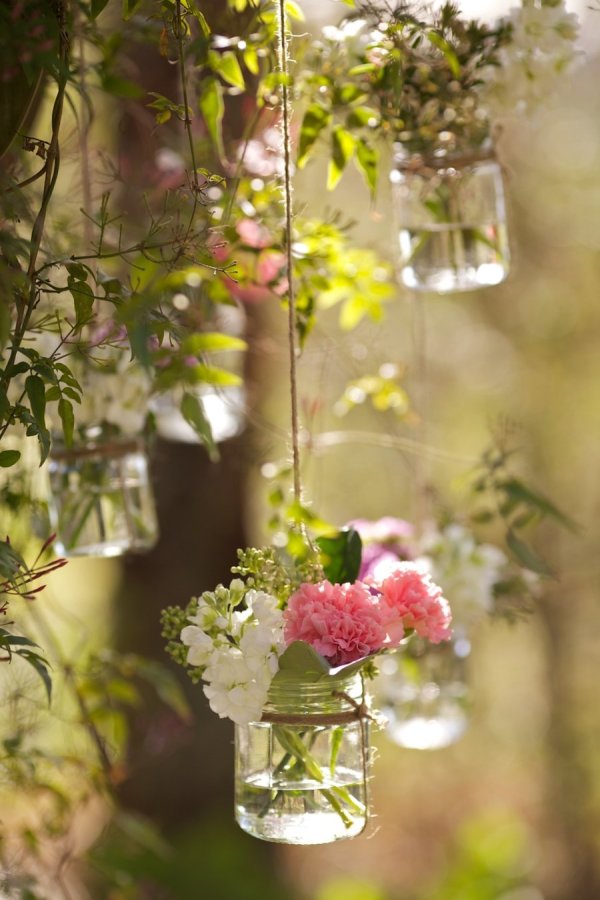 Hanging vases look fab if they're hung from a variety of different heights, and it makes the décor look absolutely effortless. If you've not got many trees surrounding your wedding venue, fear not! Source as many shepherd hooks as you need, and plant them into the ground instead. Alternatively, add a few nails to a plank of wood that can be hung up somewhere – that would look gorgeous behind your dessert table.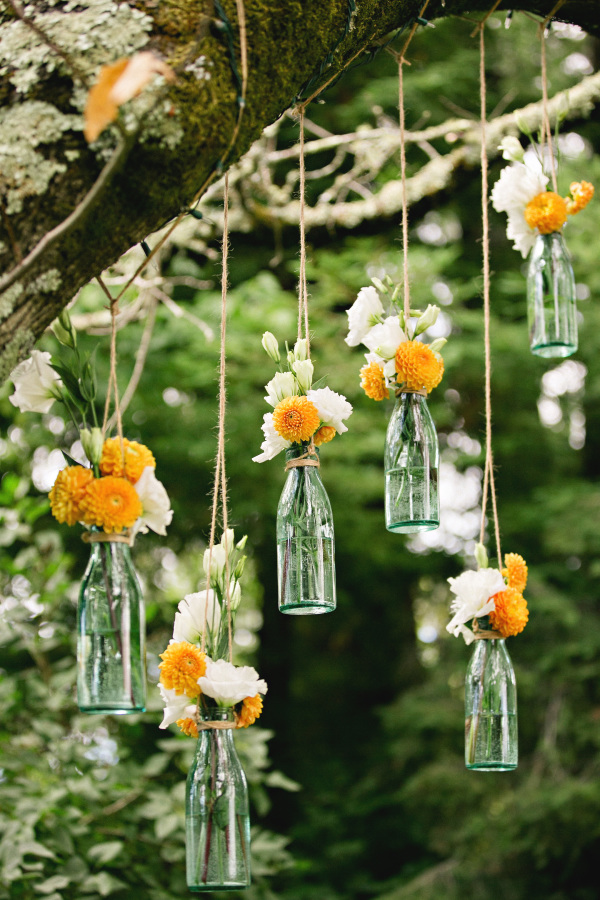 The flowers you choose for the vases are incredibly important. Natural, wild flowers are perfect if you've opted for a country or English garden theme. However, roses or peonies are beautiful for an elegant affair. Be sure that they tie in with the rest of your wedding flowers, even if you are doing this bit yourself, as you don't want them to be too contrasting.