Copper Candlesticks For Weddings
This week our wedding decoration of the week is our set of 2 copper candlesticks. These copper candlesticks are perfect for weddings, especially if you are looking to add a touch of copper or metallics to your décor. Candlesticks can be used in so many places at your wedding venue. In the church or ceremony they could be used on window sills to brighten up dark areas. Candlesticks can be used on welcome tables to welcome your guests, or later in the day on bar tables or next to your guest book or table plan. Depending on your choice of centrepiece candlesticks can also look fab on your guest tables too.
If you like the idea of candlesticks and candle holders check out our entire collection of candle holders for weddings here.
Alternatively if it is the metallics, gold, copper and bronze that you love check out our entire collection of metallic wedding decorations here.
Copper Candlesticks For Weddings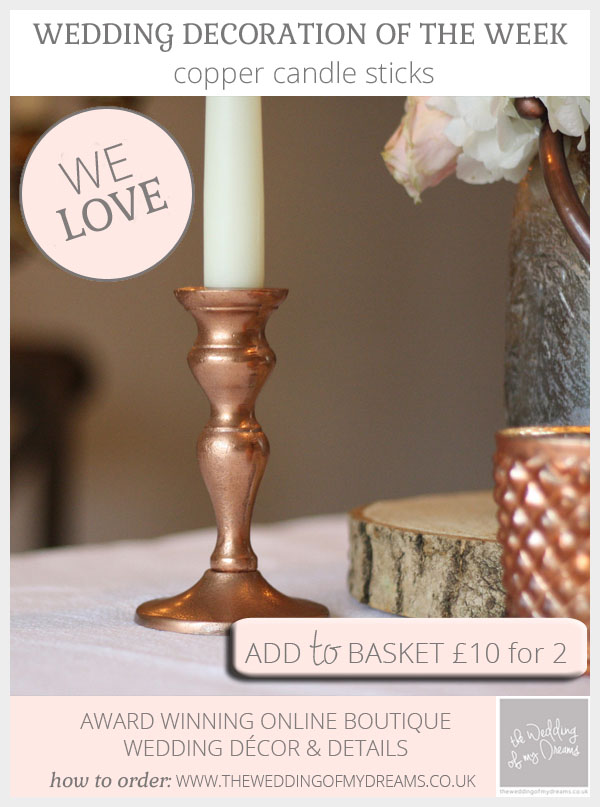 View our copper candlesticks for sale in our shop
Product Details
These copper candle sticks are sold in sets of 2 of the same size.
Each candle stick measures 12cm tall
Dinner candles sold separately- shop them here
Price: £10 for 2