Eat Me Flags For Cupcakes – Wedding Decorations
This week our wedding decoration of the week is for your wedding cake table or dessert table. These Eat Me flags for cupcakes are so cute. Ideal for an Alice in Wonderland themed wedding or party! If you are having smaller cupcakes set out on your dessert table place a cupcake flag in each one, alternatively if you are offering other sweet treats such as doughnuts or flapjacks these 'eat me' flags will work equally well.
For more dessert table decorations and ideas browse our wedding dessert table decorations here.
Eat Me Flags For Cupcakes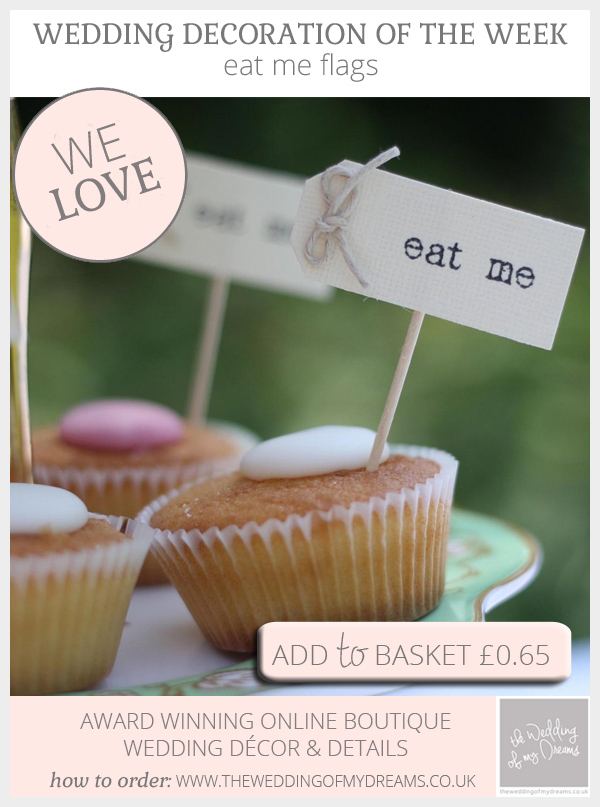 View our Eat Me flags for sale in our shop
Product Details
The flags are individually handmade in a soft buttercream colour tied with rustic string detail. Made from high quality card.
 Add the 'eat me' flags to your cupcakes or on marshmallow dotted throughout your desert tables.
 Eat Me flags measure 5cm x 2.5cm and the stick measures approx. 8cm tall.
 You may also like our handmade drink me tags and I do flags.
Price: 65p each
You Might Also Like